Working with transcripts
The power of the system is really around working with the transcripts. There are a number of elements to the transcript which might not be apparent at first glance.
---
Processing
When your file is uploaded, we begin processing the audio stream to generate your transcript. This process usually takes just a couple of minutes, even for hours of audio of video.
While your transcript is processing, you may still use the playback and annotation features.
You will receive an email with a link, when your transcript is complete. Once the file is uploaded, you can safely navigate away from the page and return once completed.
---
Updating your title
Many users organize their transcripts by the title, including information such as episode, subjects, date, etc.
You can return to any transcript and update the title anytime. Simply click the title to edit.

Hit enter to commit your changes or esc to revert.
---
Speaker Identification
Each transcript will be broken up into multiple segments, each associated with an individual speaker. Each speaker will be given a number and will appear as the same number for the duration of the transcript.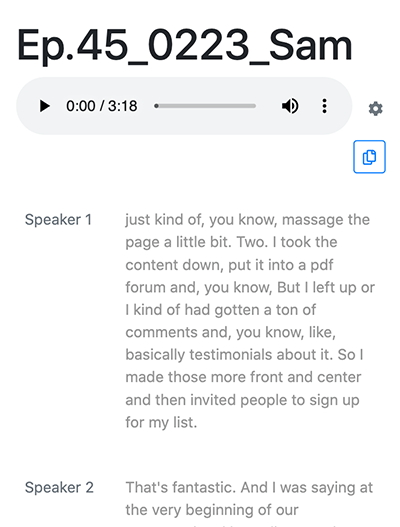 ---
Sharing
You may want to share your transcript and audio with your listeners or other internal individuals.
Because you may want to keep all transcripts private, or make only select finalized transcripts public, you control which ones can be accessed. Not only will each have a unique url that only you can see and give out, but if a transcript is not marked public it will not be accessable by anyone but yourself.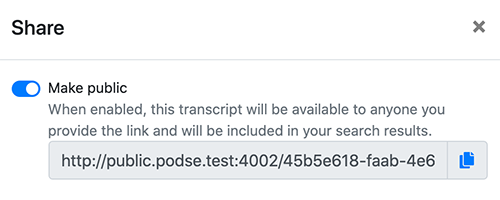 ---
Exporting Transcripts
You can download or export the entire contents of your transcript, with or without timestamps. Annotations can be copied separately.
If you do not wish to have timestamps included in the transcript, you can turn on or off this setting.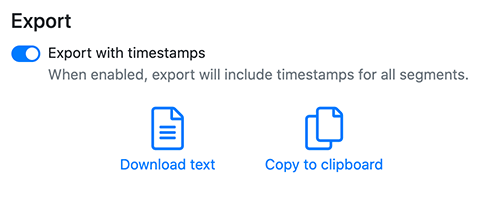 You can paste the contents of your transcript into any other application such as a word processor or other web application.

Speaker 1 [0:00 - 0:19]
just kind of, you know, massage the page a little bit to I took the content down, put it into a pdf form, and, you know, But I left up or I kind of re had gotten a ton of comments and, you know, like, basically testimonials about it. So I made those more front and center and then invited people to sign up for my list.

Speaker 2 [0:20 - 1:02]
...